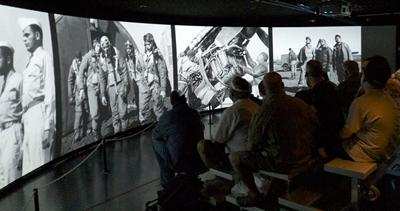 We are interested to involve your school and community in the work of the Colonel William Marsh Bower Center.
For a limited time, we will be able to arrange  a special visit for your students to experience the Rise Above Traveling Exhibit when it arrives at Portage County Airport prior to Race day. The theater will accommodate 30 people.  The film lasts about 30 minutes.
Contact the Directors of the Bower Center as soon as possible to reserve a time for your students.
Three dates are currently available:
Wednesday June 5  Showtimes
9:00 AM; 9:45 AM; 10:30 AM; 11:15 AM; 1:00 PM; 1:45 PM; 2:30 PM; 3:15 PM; 4:00 PM
Thursday June 6 Showtimes
9:00 AM; 9:45 AM; 10:30 AM; 11:15 AM; 1:00 PM; 1:45 PM; 2:30 PM; 3:15 PM; 4:00 PM
Friday June 7 Showtimes
9:00 AM; 9:45 AM; 10:30 AM; 11:15 AM; 1:00 PM; 1:45 PM; 2:30 PM; 3:15 PM; 4:00 PM